The Jamaican mangoes are considered a superfruit which means that it is generally used in my forms. Originating on the Indian Subcontinent mangoes have become one of those fruits that have instant world recognition.
Jamaican mango has come a far way from just being a tropical fruit. The many ways that mangoes are used is just amazing and creative minds are finding more ways daily. The mango is use a lot for its juice, flavor, fragrance and even the color. Yes there is line of colors call mango which reflects the many color tones of the mango.
Jamaican mangoes are very nutritious but vary depending on the specie. They come in different shape, sizes and colors. They are packed with beta carotene, vitamin A and C as well potassium. One large mango only consist of about 140 calories with is great in proportion to the nutritional benefits.
This wonderful fruit was introduced to Jamaica about 1780 and has formed part of the local landscape and foods ever since. Jamaicans had given names to the local varieties which may not be known outside of the island. However, when it comes to mangoes the names are not that important as the eating exercise. There is even a local folk song call mango time. The song entitled "wash your pots and turn them down", because it's mango time.
Jamaican Mango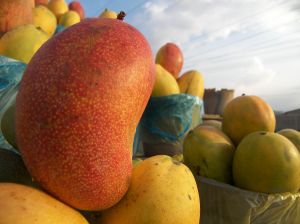 Travel with the best for less. Best Jamaica the best tour company in Jamaica offers uncompromised
Montego Bay airport transfers.
We are fully immersed into Jamaica's culture touching almost everything that this beautiful island has to offer. Customizing tours to suite your interest at great rates is what we do best.

Copyright© BestJamaica 2014 all rights reserved.






We are Best Jamaica we know Jamaica BEST.